What's handy?
About handy
All furnished apartments equipped with HANDY(Free Smartphone)
【Take it out !!】
You can talk with your family and friends wherever you are for free !!(*Japan,USA, Australia,China, Germany, UK, Hong Kong)
You can also use free Internet.
It will be your buddy while you stay with us.
What's handy?
handy is the first Mobile Operating System in the world that's specifically dedicated to modern tourists.
It provides you with the stable and coutinuous Internet environment.
All rooms equipped with Handy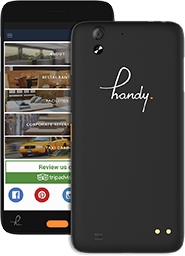 Free/Unlimited

(*Free phone calls only toJapan,Australia,USA, China, Germany, UK, Hong Kong)

Free and Unlimited Phone Call inside Japan

Free Phone calls since you start your stay

International Phone calls

Free phone calls only to those countries!
(*Japan,Australia,USA, China, Germany, UK, Hong Kong)

Free Internet Access

Free Internet access inside and outside with HANDY:)

Comfortable Stay

Completely portable!!:)

You can carry your buddy everyday everywhere!!

Comfortable search

Better stay with using HANDY map app!!!!

LUXOS City Guide

You will find MARVELOUS experience with LUXOS City Guide!

Safe/Comfortable Buddy

Free app Downloading

Free prefereble app downloading /SNS/Camera/Game

Take unforgettable photos in Tokyo!!

Share your magnificent memories during your stay in Tokyo-monthly21 with people in the world on SNS.

Complete data deleted

No data remains after your check-out.
With safe function, reliable use:)