Frequently Asked Questions
Frequently Asked Questions
Answers to FAQ's.
Please contact us if you have any other questions not listed.
Does Tokyo Monthly 21 offer hotel rooms or services?

No. TM21 offers self-serviced, furnished apartments.

Do you have properties outside of Tokyo?

Unfortunately not yet but keep checking back for new listings.

What do you mean by fully furnished apartments?

Our apartments are fully furnished with kitchen, bathroom, furniture, appliances, tableware, cooking utensils, and other housewares. For more details, refer to the Facility List.

How soon can I reserve an apartment?

Depending on the situation, we usually need about a week to process the booking.

Do I need a Japanese guarantor?

No, you do not need a Japanese guarantor.

Do I need any special documents when I sign the CONTRACT at your office or the apartment to be leased?

We only require a copy of your passport.

How does the payment process work?

If planning to make a payment by bank wire transfer, you are requested to pay the first rent to a bank to be specified in the APARTMENT FIXED-TERM LEASE CONTRACT (CONTRACT) at least 7 days before your expected move-in day.
If planning to make a payment by credit card, the online payment is required.

How and where can I get my room key(s)?

You will receive your key(s) when you visit our office, once you have settled the CONTRACT and paid the first rent.

Can I extend the lease term already settled in the CONTRACT?

You may sign a new lease once the singed lease expires however the room can only be extended on an availability-basis only.

Is there a phone in the apartment?

There is no land line in the apartments. We recommend that you purchase a rental phone from the airport or from Softbank.

Is internet connection available?

Yes, free Wi-Fi and LAN internet connection is available. Please note: Traffic/processing should be limited to reasonable quantities.
We cannot guarantee the speed of access to Internet.
Note: We provide a LAN cable as part of our amenities.

Is there a set move-in and move-out time?

Yes. We have. Move-in time: Between 10:00am and 6:30pm at our office or at an apartment reserved. Move-out time: 2:00pm or earlier

Please contact us in advance, if you have a difficulty to keep the move-out time above.

Is it possible to stay overnight on the last day of the lease?

No, you are required to move out by 2:00pm on the last day of the lease.
If you still have further questions, please use our Inquiry form.
Facility List
Appliances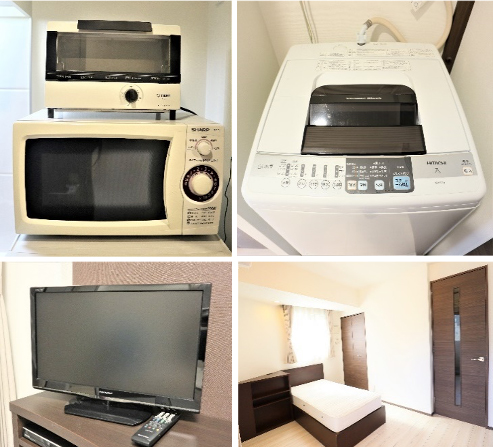 LCD TV

×1

Refrigerator

×1

Washing Machine

×1

Microwave

×1

Toaster

×1
Vacuum Cleaner

×1

Rice Cooker

×1

Hair Dryer

×1

Iron

×1
Furniture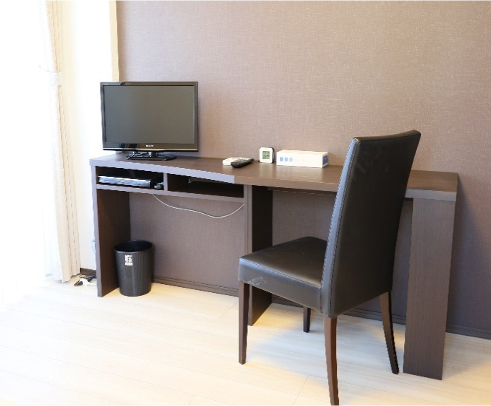 Bed

Size(S/SW/W)

TV stand

×1

Desk

×1

Chair

×1

Ironing Board

×1

hanger

×5
Tablewares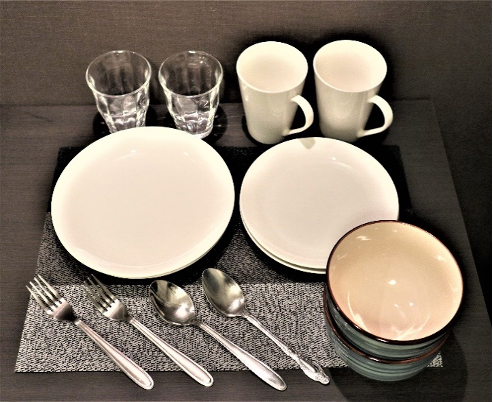 Dish (Large)

×2

Dish (Medium)

×2

Bowl

×2

Mug Cup

×2
Cookwares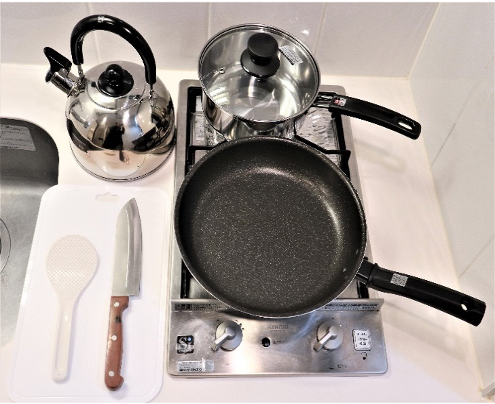 Frying Pan

×1

Pot

×1

Kettle or Electric kettle

×1

Kitchen Knife

×1

Cuttting Board

×1

Rice Paddle

×1
Expendables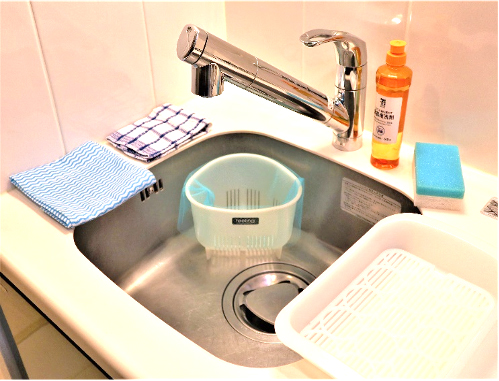 Dishwashing Detergent

×1

Dishwashing Sponge

×1

Sink Strainer

×1

Sink Garbage Bag

×3

Drainer Basket

×1

Kitchen Towel

×1

Aluminum Foil Burner Bib Liner

×1
Bath Detergent

×1

Bathtub Scrub

×1

Toilet Detergent

×1

Toilet Brush

×1

Toilet Paper

×2

Tissue Paper

×1

Garbage Bag

×5
Close