Tokyo Monthly Mansion Kamata 5mins by walk
Concieria Kamata U's Square
★Free Wi-Fi Access★
Conveniently centered between the hearts of Tokyo and Kanagawa, the Concieria Kamata U's Square provides an easy commute to work or school, as well as a shopping and leisure spots.
The sophisticated shopping complex that extends from the station includes four large shopping malls and three major promenades, which cater to all of your everyday needs. The building also offers close access to business districts.

*Please note there is no front desk at the apartment.
*Inquiry 9:30-18:30 on Weekdays, 9:30-18:00 on Sat, Sun and Holidays.
Features / Facilities
Close to University
Close to Car Parking
Close to Dry Cleaner
Close to Hospital
Close to Convenience Store
Close to Supermarket
Close to Coin Parking
Easy Access to Haneda Airport
Easy Access to Narita Airport
Easy Access to Shinkansen
For Students
For Business Trips
Temporary Residence for Short/Midium-Term
Convenient Location for Sightseeing
Outpatient Visit/Nursing Care etc.
Free Internet
High Security
Fully Equipped Facilities
Auto-Locked Entrance
Delivery Box
Room Cleaning Service Available at Additional Cost
Bicycle Parking
Motor Cycle Parking
Urgent Move-In
広めのお部屋(25m²以上)
Separate Wash Stand
Relatively New Building (5 Years Old)
Close to Train Sta. (in 5 mins)
With 140cm wide Double Bed
Plan
Standard Studio
22.76m²
From 4,580JPY/day From 137,400JPY/month

Standard Studio (Renovated)
22.76m²
From 4,600JPY/day From 138,000JPY/month
Access

Address

4-22-1 , Kamata, Ota-ku, Tokyo

Structure/Story Building

RC (Reinforced Concrete)/15 Story

Year Built

August 2007

Surrounding Facilities

Transactions

Lessor

Last Update

2019/03/24

Next Scheduled Update

2020/01/31
Plan
Type
Period
Rent

Utilities and
Property Management Fee

Checkout Cleaning Fee
Short
more than 1 month and less than 3 months

4,780JPY/day
143,400JPY/month

1,500JPY/day
45,000JPY/month

19,800JPY/When moving in

Middle
more than 3 months and less than 7 months

4,680JPY/day
140,400JPY/month

1,500JPY/day
45,000JPY/month

31,000JPY/When moving in

4,580JPY/day
137,400JPY/month

1,500JPY/day
45,000JPY/month

42,000JPY/When moving in
Short
more than 1 month and less than 3 months

4,800JPY/day
144,000JPY/month

1,500JPY/day
45,000JPY/month

19,800JPY/When moving in

Middle
more than 3 months and less than 7 months

4,700JPY/day
141,000JPY/month

1,500JPY/day
45,000JPY/month

31,000JPY/When moving in

4,600JPY/day
138,000JPY/month

1,500JPY/day
45,000JPY/month

42,000JPY/When moving in
Administration Fee : 4,000JPY(+tax)/per contract, Contract Extension Fee : 3,000JPY(+tax)/per contract
* C24 Reliable Service is included in the Property Management Fee.
※2020年3月20日以降のご契約については、日額最大2,000円のハイシーズン料金が表示賃料に加算されます。予めご了承の上、ご理解賜りますようよろしくお願い申し上げます。
Customer Reviews
Jan. 25, 2018 30's Male Business Trip

Dec. 22, 2016 20's Female Business Trip
Monthly Apartment in the same area
Facility List
Appliances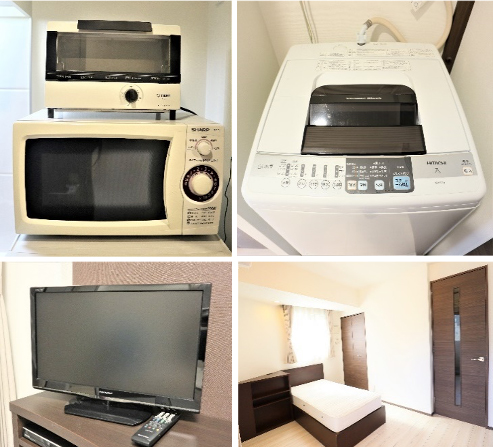 LCD TV

×1

Refrigerator

×1

Washing Machine (w/Dryer)

×1

Microwave

×1
Vacuum Cleaner

×1

Rice Cooker

×1

Hair Dryer

×1

Iron

×1
Furniture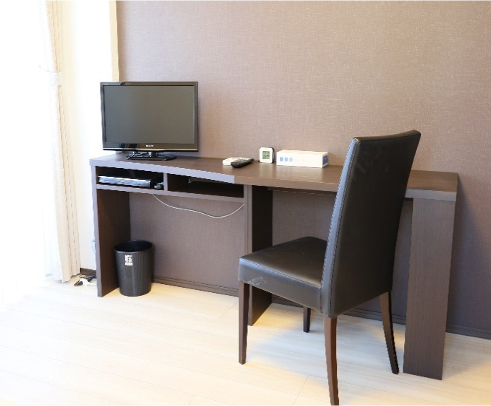 Bed (S/SW/W)

×1

TV stand

×1

Desk

×1

Ironing Board

×1

Alarm Clock

×1
Tablewares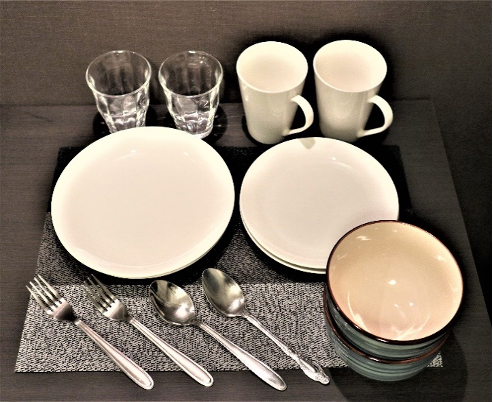 Dish (Large)

×2

Dish (Medium)

×2

Dish (Small)

×2

Small Plate

×2

Rice bowl

×2
Soup Bowl

×2

Bowl

×2

Mug Cup

×1

Cup

×2

Spoon (Large)

×2
Teaspoon

×2

Fork (Large)

×2

Fork (Small)

×2

Butter Knife

×1

Bottle Opener

×1
Cookwares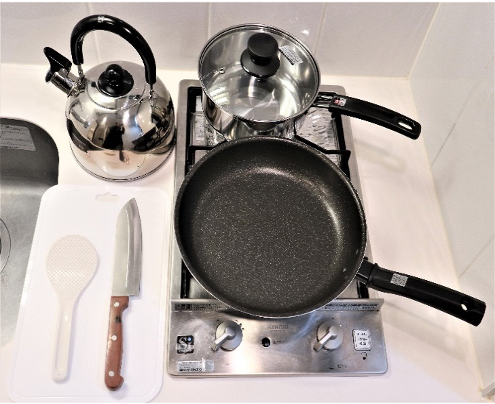 Pot

×1

Frying Pan

×1

Food Turner

×1

Ladle

×1

Rice Paddle

×1
Kitchen Knife

×1

Cuttting Board

×1

Kettle

×1

Mixing Bowl

×1

Colander

×1
Expendables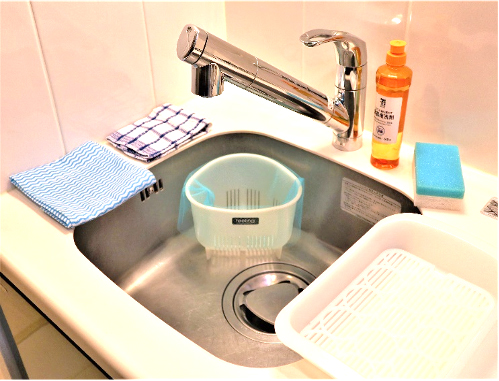 Sink Strainer

×1

Sink Garbage Bag

×3

Drainer Basket

×1

Aluminum Foil Burner Bib Liner

×2

Dishwashing Detergent

×1

Dishwashing Sponge

×1
Sponge Holder

×1

Bath Detergent

×1

Bathtub Scrub

×1

Toilet Detergent

×1

Toilet Brush

×1

Deodorizer (Toilet/Fridge)

×1
Toilet Paper

×2

Tissue Paper

×1

Disposable Chopsticks

×1

Garbage Bag

×5

Ventilation Fan Filter

×1

hanger

×5
Close